Last week I had to make a hospital visit (I work as a Chaplain) at Sibley. I was driving from Capitol Hill so the gps took me through the Foxhall/Palisade neighborhoods on MacArthur Blvd to get there. I have an obsession with beautiful things which is why I love nice homes, interior design, art etc. I can smell out a beautiful home from a mile away and I was drooling as I admired all of the well manicured homes in NW DC.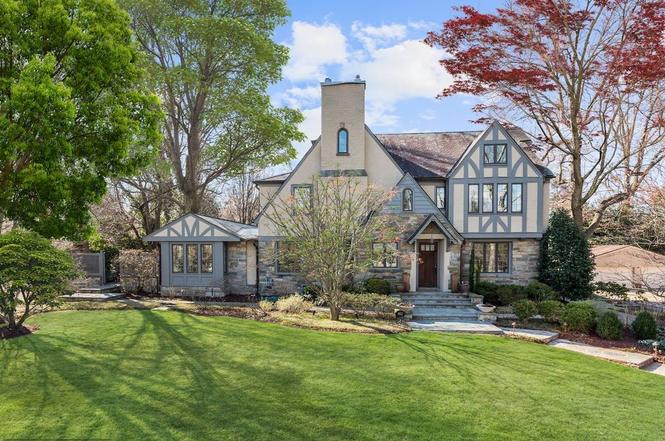 They all looked a little something like this. It reminded me a bit of Cheverly but on a larger scale 🙂 (!!) and this home specifically is on the market for 5+million.
After I see homes like these I always ask my husband…is there anywhere you'd want to move? And then we both come back to the fact that Cheverly is truly amazing. Now tell that to someone who lives in DC and they might laugh, tell that to someone who lives in northern VA and they will laugh, tell that to someone who lives in Montgomery County and they may laugh, tell that to someone who has just moved to Cheverly and they might even laugh…..but tell that to someone who has gotten involved in our community and they would agree–Cheverly is truly one of a kind. Can I get a witness??
And this is why I Choose Cheverly…
Meet my son. He is almost 6 (4 days shy) and he has an amazing childhood living in Cheverly. His Cheverly baseball team had their first two games this weekend and my boys played with their friends from Cheverly Weekday Nursery, Cheverly Montessori, the Cub Scouts, and from all the Cheverly activities that they've done since they were little. I love it that they know their coaches and fellow players since birth. (with the exception of a few)
This is what makes Cheverly such a special place. Kids know their neighbors. Their friends are in the community and I know the parents. We couldn't be more blessed. #smalltown
What do people do in Cheverly on the weekends? (besides attend little league games) I'm glad you asked. This weekend people camped out on Sat morning like they were in line for Hamilton tickets.
This is the Cheverly Community Center. See the line coming out the door? It's for Cheverly Prom tickets. That's right–adult prom, the best night of the year. The community center can only hold so many so people camp out in line to get the tickets. Yes, we are that crazy.
And of course this weekend was Cinco de Mayo. A few residents put together a block party. Yes- this is how cool Cheverly residents are:
And this is why I Choose Cheverly (and why you should too)